L'Oréal Go 360 Clean!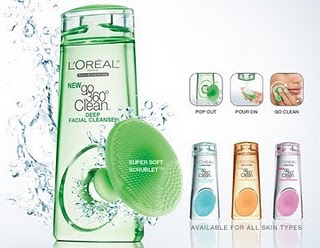 Hey everyone, I'm back with a review for you! Today I'm going to be reviewing the L'Oréal Go 360 Clean Deep Facial Cleanser (green bottle). I bought this cleanser last year, around November or December and I think I had featured it in one of my first hauls.
I have dry to combination skin and this cleanser doesnt completely dry out my skin when I've finished washing with it, however that does not mean you should not moisturise afterwards. It isnt very stripping although it is very tough on make-up and oils and removes them quickly especially when using the Scrublet (I think that's the name of the little silicone facial cleansing pad which comes with it.) This particular cleanser out of the collection is the Deep facial cleanser and is colourless and said to be oil-free.
The scent is not overpowering after washing, but is a fresh flowery scent which is very crisp. It definitely smells clean!
This cleanser can foam up quite a lot. When I use it, first I wet my face and the Scrublet, then I apply a pea sized amount of the cleanser and work it onto my face. This is usually enough to to my entire face, granted my face is not very large however the product does stretch very long as I've only now almost emptied my bottle.
Does it work for acne? No, not this particular bottle but there is another of these for breakouts. This works great for daily cleansing and make-up removal after a long day of wear. If you are looking for a cleanser to treat acne, this is definitely not it. I get the occasional pimple and I chose this because acne cleansers are usually harsh and drying. I also have another cleanser for when I do have breakouts and during that time I do not use this, as it has little to no effect on acne.
It says at the back of the bottle that it's supposed to deeply cleanse the skin and "unclogs- pore by pore". Now I wouldn't say it got rid of my blackheads or clogged pores but it does feel like a deep clean. May be that's just with me, or I have to try steaming my face longer with hot steam and then scrubbling harder (which might be worse for my skin), but this product does not work for unclogging pores. I use something else which works better for unclogging.
It's also supposed to reduce pore size, but my pores are already realitively small for I cannot comment on this property.
Packaging-wise, I think it's a large amount of product, 6.0 oz considering it lasts very long. Plus, it has this cute little scrubber to help exfoliate and cleanse your skin. The price was not bad either, when I bought it at the end of last year it was $16BDS and I've recently seen it for $15-17 BDS.
The VERDICT:
Pros:
-Cleans daily oils off
-Removes make up
-Smells is nice but not overpowering
-Does not dry out skin
-Product lasts long if a small amount is used
-Comes with a Scrublet
-Foams a lot
-Oil-free
Cons:
-Does not unclog pores
-Does not work on acne
-Does not remove blackheads or whiteheads
The Raw Sugar:
It is a good product for daily cleansing and nothing much more than that. It will not work on clogged pores or acne for this particular formula (green bottle). It does not dry my face so much that it is imperative that I have to use a moisturiser after, but use of a moisturiser is advised.
Disclaimer: I was not sponsored to do this review, this is my HONEST opinion. Photos used are not my own.